COMMUNITY GARDENS DAY 2018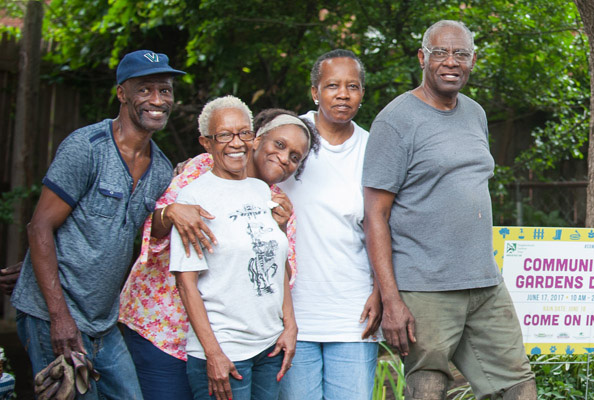 SATURDAY, JUNE 16 | 10AM – 2PM
Celebrate summer's arrival at the Fifth Annual Community Gardens Day. Across the city, 60 vibrant and unique community gardens and shared open spaces welcome you to participate in an array of engaging activities for all ages— from garden tours, workshops and demonstrations to music, kid's activities and BBQs. Visit a garden and learn about the many social, health and environmental benefits community gardens provide our city.
* Rain date: Sunday, June 17, 2018
COMMUNITY GARDENS DAY ACTIVITY HIGHLIGHTS
Ralph Brooks Park (map number 28):
Kick off Community Gardens Day with a celebration at the Community Garden at Ralph Brooks Park at 10:30 a.m. The event will honor three community garden heroes including former Philadelphia Eagle, Connor Barwin and the Make the World Better Foundation.
Corinthian Gardens (map number 6):
Edible forest garden tours, 12-2pm beehive demo, facepainting.
Federal Street Garden (map number 32):
Story time. Crafts, snacks and fun with miss Liz from Queen Memorial Library.

Chester Ave Community Garden (map number 48):
Community planting of native flowers to attract butterflies and other pollinators with John Heinz National Wildlife Refuge and Audubon Pennsylvania.

Neighborhood Food Farm (map number 52):
Cooking demo, garden education and resource sharing
Concert Garden (map number 29):
BBQ, water ice and popcorn.

Awbury Community Garden (map number 2):
Garden workday focused on scouting orchard pests and diseases and demonstrating ecological management techniques, 1pm orchard and historic community garden tour, 2pm POPCORE workshop on Ecological Orchard Pest & Disease Management