Abandoned Lot to Beloved Space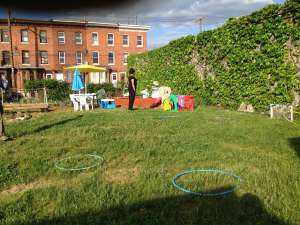 Situated in the heart of East Kensington is a grassy 2,045-square-foot plot of land sown by seeds of love. Over a decade ago, the space was nearly unrecognizable. Its grass was strewn with trash and contractors were using it as dumping ground. Julius Rivera, a resident of the neighborhood and Philadelphia native, decided to step up and transform the vacant lot.
Long before Rivera moved into East Kensington, an old building on Hagert Street had fallen to pieces after a fire and years of neglect. The city bulldozed the remaining foundations and occasionally tended to it. In the early 2000s, Rivera took initiative to clean the lot, which resulted in a grassy spot for parents of the neighborhood to take their children.
Bramble (thorny shrubs) quickly flourished, causing difficulties for Rivera to maintain the lot. However, the same shrubs soon began to grow blackberries, which excited residents. In springtime, as he watched the peoples' love of the prickly plants grow, Rivera recognized the wonderful opportunity to transform the lot into a protected space in which local kids and his own children could play and learn.
Behind the Name Collins Smith Barrick
Rivera, a father and special education teacher, had become connected with several teachers integral to his own neighborhood and the larger Philadelphia community. George Barrick, for instance, inspired Rivera to use the arts as a means for enhancing children's education. Barrick, who began at Moonstone Preschool, established a school of his own: the AKWD ("Any Kid Will Do") Daycare Center. The name conveyed Barrick's belief that every child is smart, creative and talented, and can therefore achieve anything. Another neighbor, Andrea Collins-Smith had a blog called, "Punk Rock Mommy," which grew popular for its brave and warm-hearted discussion of her journey as an unconventional mother diagnosed with breast cancer.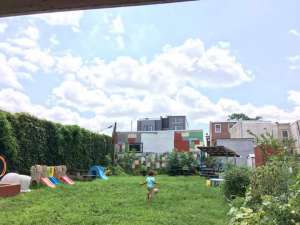 Andrea Collins-Smith and George Barrick both died from cancer in 2008, leaving legacies of compassionate, holistic childhood education. "After Andrea and George passed away, it felt right to create a name that memorialized both people… and it was fitting to make it a space full of life," said Rivera. In memoriam of two Philadelphians who worked vigilantly to help children grow happily and healthily, the plot of land was named the Collins Smith Barrick Play Garden.
The Journey to Preservation
When Rivera arrived in the Kensington neighborhood twenty years ago, the neighborhood was in decline. The New Kensington Community Development Corporation's (NKCDC) efforts slowly helped to revitalize old homes and vacant lots, increasing the value of land in the area. By the early 2000s, rumors began to spread that developers were looking to buy. People around the block worried the play garden would be lost to development.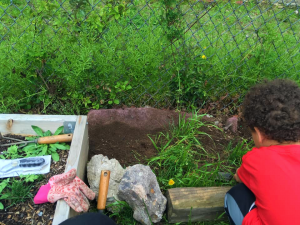 The neighborhood had grown accustomed to enjoying the green space each year. During this time, Rivera confides that his fear of losing the play garden caused nightmares; visions of buildings being developed over top of the garden. "It was a feeling of impending doom," he said.
Then, Julius Rivera attended a community meeting where he hoped to find answers. There, he approached Councilman Mark Squilla. The two had become well-acquainted after working together on the Hagert Playground. Squilla recommended Neighborhood Gardens Trust. Within weeks, Rivera met NGT Executive Director Jenny Greenberg-at a community meeting. "After that," he said , "…the rest was history." NGT acquired the garden in 2018 from the Philadelphia Redevelopment Authority, preserving Collins Smith Barrick Play Garden for neighbors to continue to enjoy. According to Rivera, NGT's efforts eliminated their worries: "They gave us permission to dream."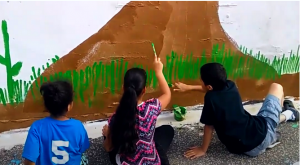 With the help of environmental and community-focused nonprofits and volunteers, the Collins Smith Barrick Play Garden continues to grow. With support from the Philadelphia Committee of the Garden Club of America, East Kensington Neighbors Association and the Pennsylvania Horticultural Society, the garden has a renovated sidewalk and street tree, new raised beds and a shed. It was also recently selected as one of Philadelphia Parks and Recreation's pilot community composting sites.
Now, Rivera says, the Play Garden is a landmark for all of East Kensington to enjoy. About ten households regularly share the space, and anywhere from 50 to 100 attend community events like egg hunts and neighborhood cleanups. "It is always heart-warming to see children and families, to see people playing, gardening and socializing in the park," he said.
In 2020, the Play Garden is bringing together Emerald Street Urban Farm, NGT and parents from the neighborhood–like Julius Rivera–to communicate, collaborate and plan for the future. Members of the Collins Smith Barrick Play Garden are largely focused on how to move forward in establishing educational programs in the garden for local kids. All are looking forward to sharing gardening skills with neighbors and building up their community through organized events like concerts, yoga classes and more.
Following recent safety guidance on account of the spread of Covid 19, Rivera, his neighbors, volunteers and others continue to transform the once dumping ground into a beloved playspace and garden. Though Rivera says that the virus is,"killing momentum," these past weeks of quarantine have slowed use of the garden, allowing for great cooperation and brainstorming for the future.
Rivera shares songs online, for instance, for local families so that they can learn about the garden and composting. The Collins Smith Barrick Play Garden is certain to continue to flourish into a green oasis for Philadelphians and their families for many years to come.