Uniting a Community for Food Justice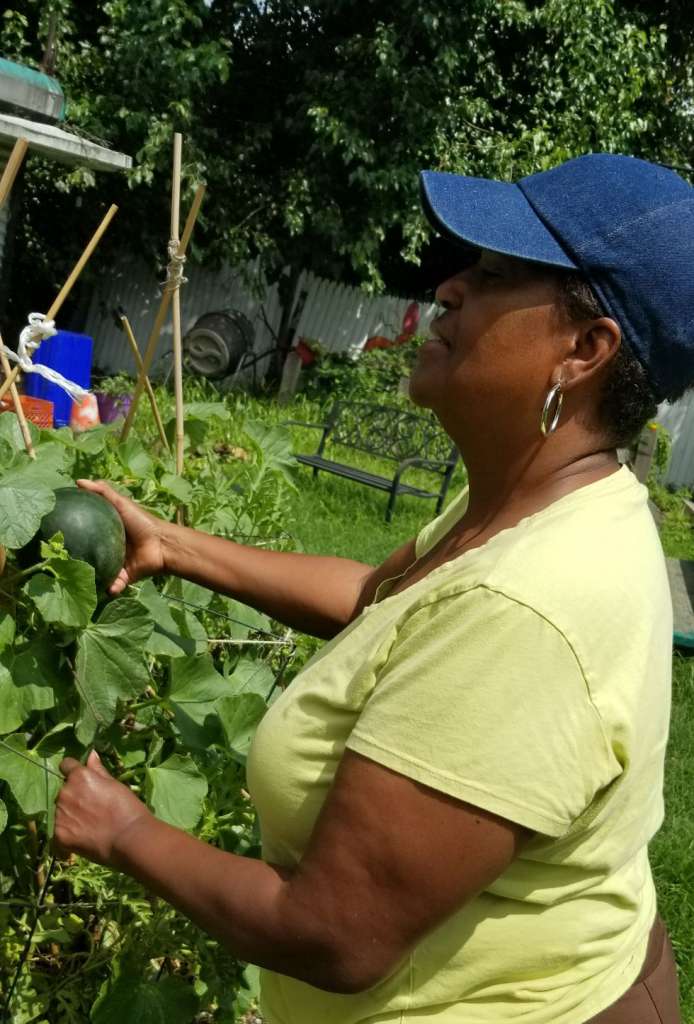 Dr. Beverly Giles Carter's journey to the movement for food justice and the creation of the Five Loaves Two Fish Community Garden began around 2009.
A West Philadelphia resident and high school science teacher, Beverly was troubled by the number of people she knew who were being diagnosed with Type 2 diabetes. Wanting to understand more, Beverly began to study nutrition and the impact of diet on health. She came to recognize that the lack of access to fresh, nutritious food in her neighborhood made it much harder to maintain good health overall. She also recognized that this was a social justice issue, as many low-income communities of color in Philadelphia do not live within reach of a grocery store that sells affordable fruits and vegetables.
Through self-education, Beverly made changes in her own diet, lost 20 pounds and found a new mission. Concerned about Philadelphia's rising obesity rates, she began by organizing workshops around the topic of "Food as Fuel." The following year, Michelle Obama launched the Let's Move! initiative, which inspired Beverly to continue the conversation around nutrition and healthy food choices in her community. She brought speakers to local libraries and schools to provide information about diabetes, heart disease and nutrition management.
Beverly also saw how other quality of life issues in the neighborhood, like dumping and crime, create harmful stress. As her work continued, she began to envision a community garden that would serve several purposes. It would provide fresh fruits and vegetables, exercise, and the chance for people to connect. Beverly says, "Where I grew up, neighbors sat outside every night to talk. It seemed we've kind of lost those connections."
In 2014, Beverly, in partnership with her longtime friend, Victor Young, saw the potential in a large, overgrown and trash-strewn lot on the corner of 55th and Jefferson Streets in the Hestonville section of West Philadelphia. Beverly put out a sign-up sheet for neighbors who were interested in gardening. Together, they all began the daunting task of clearing the lot where six large row homes once stood. The gardeners installed raised beds, fencing, a storage container, pathways, and a seating area. What had been a troubling eyesore began to emerge as a place of health and healing and they named it Five Loaves Two Fish Community Garden.
At the beginning, Beverly says most of the growers were elders who would bring their children and grandchildren to help and learn. Today, the garden is at capacity with a mix of newcomers to gardening as well as those with extensive growing experience. Some gardeners are of Haitian and Jamaican origin and have brought experience and zeal to growing food in the city. "It is phenomenal for them to have a place to garden once more," says Beverly.
Now, in its sixth growing season, the Five Loaves Two Fish Community Garden overflows with vines of ripening tomatoes, juicy melons, and vitamin-packed mustard and collard greens.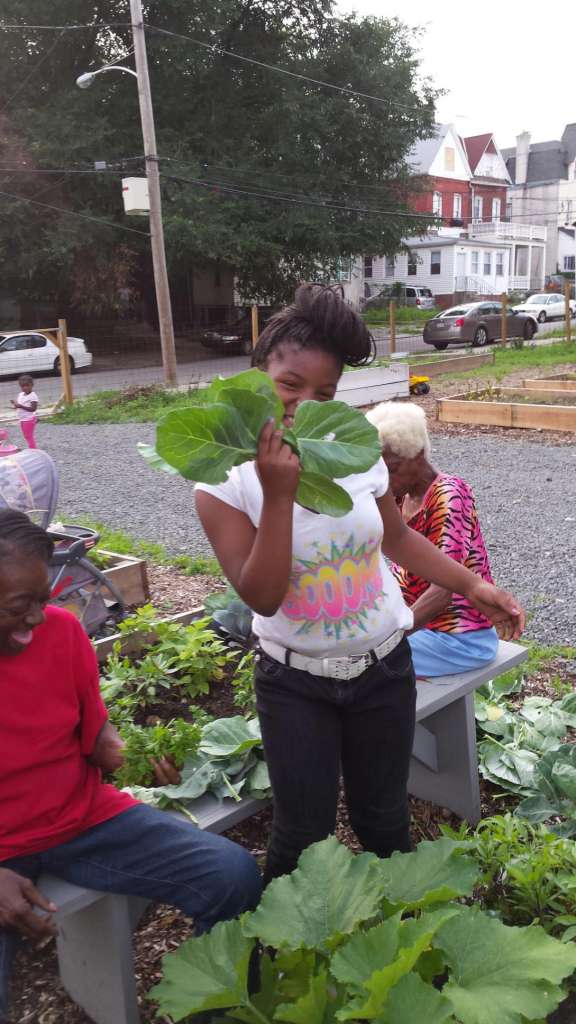 The garden has become a staple in the community and its presence promotes a group consciousness of educating neighbors about wellness and nutrition.
Five Loaves Two Fish Garden reached out to the Neighborhood Gardens Trust in 2014 to ask us to secure and protect the land so that the garden could continue to thrive for generations to come. Land parcels within the garden were originally held by five different owners, which were all at risk of being lost to development. Today, NGT holds title to five of the six parcels and is working to preserve the last one.
The Pennsylvania Horticultural Society has also supported the gardeners with seedlings and infrastructure, such as a dedicated water line and raised beds. The garden members hope next to build ADA-accessible beds to welcome those with little access to the joy of gardening as well as a hand-washing station.
"We are here, and we are not going anywhere. Whatever the problem is, we will keep talking about it and working on it," says Beverly, who reports that the area around the garden has also experienced a sharp decline in crime and dumping. "People in the neighborhood respect this garden… It has a calming effect. If it were still full of tires, six-foot weeds and such, more criminal activity would continue to occur."
Gardening in the time of COVID-19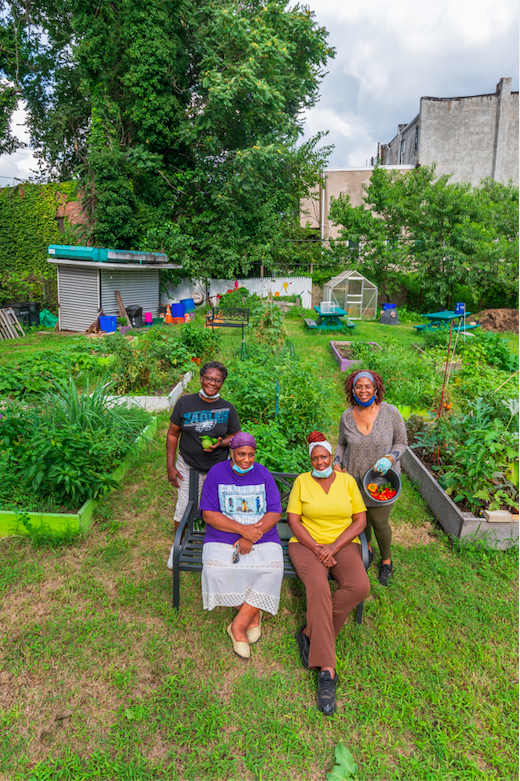 Beverly says that when COVID-19 struck at the outset of the growing season, they sprang to action. "We put on masks in March and went out and cleaned up the garden. We knew how important having access to food this year would be." Fortunately, the city deemed community gardens to be an essential service so they could be active during the Stay-at-Home order.
Garden members comply with health and safety guidelines like social distancing as they cultivate their crops.
Job losses, closed stores and supply chain disruptions have highlighted the importance of community gardens for self-reliance and a more equitable, resilient local food system. Beverly has been cultivating several additional beds this season to grow more produce to distribute to vulnerable neighbors who are unable to come out to garden this season.
Despite all the struggle and hardship as a result of COVID-19, Beverly believes that it has brought people in the community together. On Earth Day 2020, she put out a new sign at the Five Loaves Two Fish Garden calling for more community members to get involved. She has seen a surge of interest, especially among young people who have stumbled upon the garden as they walk around the neighborhood.
"Food justice is important in our community, and it is important that we are visible. We have to come together to figure these things out." In the near future, the gardeners are planning to put up a tent where they will welcome neighbors to pick up baskets of free, fresh produce. Those around the garden respect its goals and enjoy the green refuge from the hot concrete.
Beverly's next project for the garden: Lesson plans for getting local kids interested in the garden and food education. Though the year has brought struggles, Beverly and the gardeners are confident. "We will have more zeal for gardening and will be returning next year."