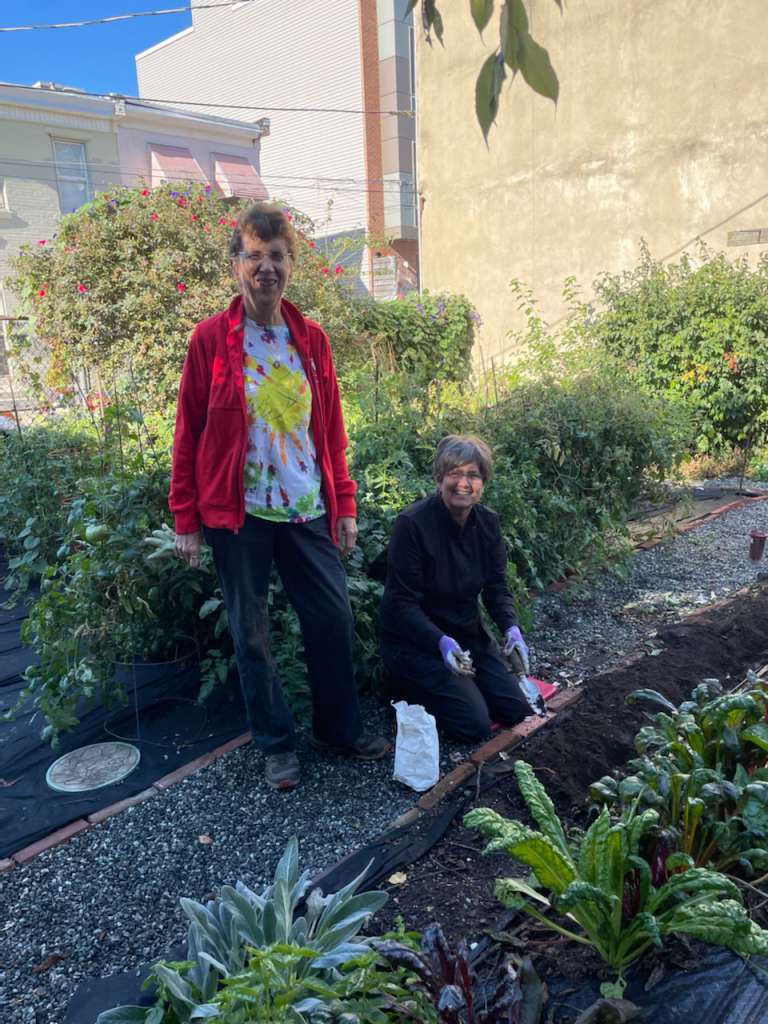 A Dream Come True
The House of Grace Catholic Worker Community Garden has been serving Philadelphia's East Kensington neighborhood for almost 30 years. Under the leadership of Johanna Berrigan and Mary Beth Appel, the garden continues to flourish, transformed from the neglected land it once was years ago into a community gem.
After many years spent worrying about the future of the garden, these community leaders felt relieved in 2018 when NGT was able to acquire ownership of the garden from the Philadelphia Redevelopment Authority. Once the garden was preserved, they dreamed with NGT about how the space could be enhanced.
The garden is divided into two sections by one standing house, with one side dedicated to the cultivation of organic vegetables, berries, herbs, and flowers, and the other side a shade garden. After making improvements to the food producing garden in 2020, this year an incredible opportunity emerged to completely reimagine the shade garden and to realize its full potential as a place of beauty, peace, and healing.
Mary Beth and Johanna envisioned a restorative garden that is safe and accessible and provides respite from the harsh realities of the Kensington neighborhood. That vision has truly come to life through a complete reimagining and renovation of the space.
When asked how it feels to see how far they've come, the two shared, "It feels wonderful. Having a space like this has always been something we have longed for, but never believed it would be possible. It is a dream come true. We are so grateful and hope to use it for the greater good of the community."
For the pair, it's been special working in the garden over the years with so many individuals and groups that have taken part in what the garden has become. They've had some good memories of dreaming, planning, planting, weeding, and harvesting.
As they reminisced, they talked about holding liturgies with the extended community in the garden and putting in a Peace Pole – in the rain! Other celebrations included graduation parties, a Baptism party, and a pre-wedding blessing. A few years ago, they held a memorial service for the loved ones of clinic patients who never had a funeral. Another special memory was being surprised by friends with the creation of a labyrinth in the garden. It also meant a lot to have access to the garden during the pandemic.
Mary Beth and Johanna had struggled to keep the invasive weeds at bay at the shade garden, and it was not as well used as they wanted. That has all changed through the support of many generous donors including Laura and Marc McKenna, the Joseph Robert Foundation, the Philadelphia Committee of the Garden Club of America, a local family foundation and Philadelphia Department of Housing and Community Development.
This fall, a stunning new design developed by the PHS Public Landscapes team and All Seasons Landscaping sprung to life. The garden was regraded with new curvilinear pathways and gathering spaces defined by large boulders that serve as informal seating. A beautiful selection of trees, shrubs, and perennials were planted that will be beautiful and simple to maintain. A large, screened gazebo was also installed, that Johanna and Mary Beth will use as an outdoor, close-to-nature space for spiritual companioning and events.
The garden will be a place where their patients can come to relax, feel welcome, and enjoy. They plan to invite community members who have experienced the loss of loved ones to an overdose, to come and feel the support of community. They also hope to welcome the neighbors, particularly the young moms with children to use the space and the gazebo.
House of Grace Legacy
Johanna and Mary Beth want to leave the world better than they found it. "We want to leave the legacy that we value the gift of nature, and the beauty and healing that a quiet, beautiful space can provide. We worked to protect these gardens from developers so that in this urban, increasingly congested, busy neighborhood there is an oasis of peace. We want everyone to know that nature and being in spaces of beauty are necessary for the healing of the soul, mind, and body. We want people to feel that they are welcome. Come, take a deep breath, relax, feel peace, and feel refreshed and renewed."
Part of the Catholic Worker philosophy postulated by the Co-Founder of the movement, Peter Maurin is a vision of communities that honor mind, body, and spirit. Even in his day, in the1930's, Maurin felt that modern society had failed, and that it was time to "build a new society in the shell of the old." This would happen, he believed, through a "green revolution." He implemented what he called "agronomic universities" to encourage a return to the land.
"The gardens have always been our way to put this aspect of the Catholic Worker philosophy into practice. And now, with the land trust protection and renovation of the garden, we already are experiencing the ways the beauty is saving this part of our little world."