Preserving Common Ground on Mercy Street
Neighborhood Gardens Trust (NGT) started the new year by accomplishing one of the trickiest garden protection projects that we have encountered to-date.
Once a complicated patchwork of vacant land and overgrown parcels owned by multiple developers, the 500 block of Mercy Street in South Philadelphia now has two permanently preserved and thriving community gardens. 
"While I am so thankful for all the strides that have been made on Mercy Street, I am most proud and looking forward to the future… not like two years from now but twenty!" says Sammi Bateman, a resident and community gardener.
Thanks to public-private partnerships and the determination of a diverse group of local gardeners, the Growing Home Community Garden and Mercy-Emily Edible Park will provide a safe and vibrant growing space in the South Philadelphia community for generations to come.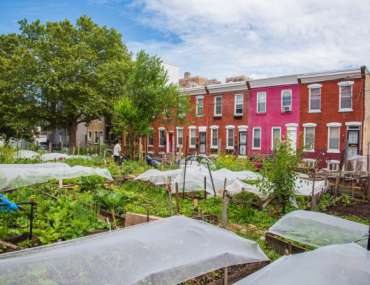 The Growing Home Community Gardens, including newly preserved parcels on Mercy Street, were established by the Nationalities Services Center and Pennsylvania Horticultural Society (PHS) in 2010 to address nutritional deficiencies among newly arriving Burmese and Bhutanese refugees.
Today, the gardens are managed by SEAMAAC and continue to provide opportunities for immigrants and refugees to grow nutritious vegetables indigenous to their native cultures, while growing roots in their new community.
On Mercy Street, seventeen families work collectively to grow eggplants, greens, and squash varieties from Myanmar with seeds sourced by PHS. The space has grown to become much more than a garden – serving as a therapeutic outdoor setting for refugees to reconnect to their agricultural roots, build community, and for elders to share knowledge to their grandchildren and younger generations.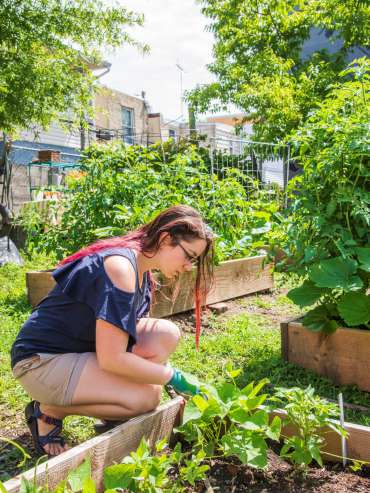 Across the street from Growing Home, neighbors began to work together in 2014 to transform abandoned land into the Mercy-Emily Edible Park (MEEP), a community garden and food forest with fruit trees and berry bushes. Broad Street Ministry provided early support for the garden to establish a source of healthy, affordable fruits and vegetables. Today, MEEP is gardened by twenty community residents and Broad Street Ministry congregants who grow fruits and vegetables that they share with food insecure neighbors.
SEAMAAC plays a lead role in outreach to neighbors on the block, bridging language and cultural barriers to strengthen community and social ties between the two gardens and refugee, immigrant, and native-born neighbors.
"The Garden is very important for my community and especially for the seniors," says Burmese community leader Naw Doh.  "It is like a home.  They grow the foods we eat and they see each other. It lifts their spirits. When the land is protected, we don't have to worry and we have more space to include more people."
To preserve these two gardens and the community they have created, NGT worked with Councilman Mark Squilla and the city of Philadelphia over the course of several years to strategize and orchestrate four land exchanges with private developers.  The cooperation of these developers allowed NGT to acquire and protect eight parcels of contiguous land.
NGT welcomes the Mercy Street gardens to the Trust.  We are thrilled to be able to protect precious common ground and fertile soil where so many individuals and diverse partners are working together to cultivate a healthy, equitable, and welcoming community.