There is an innate synergy between art and nature. Go on a tour of any art museum, and you will encounter painting after painting of picturesque natural landscapes. The other side is true, too. Talk to any dedicated horticulturist or gardener, and they will tell you how the design and care of a garden is an art form. This is showcased at many NGT gardens in the form of murals and mosaics. Occupying an otherwise blank wall, these public art projects provide year-round pops of color and relate the histories of the gardens and the people who steward them to any intrigued passerby.
The connection between gardens and public art goes beyond aesthetics. Both murals and community-managed open spaces are at risk of being lost in a city facing increased development pressure and gentrification. By occupying the same location, gardens and murals maximize the community benefits of the open space and provide an even greater incentive against redevelopment.

The following photo tour of murals and mosaics shared by NGT 2023 intern Isaac Faller, provides a taste of the beauty that exists within our growing spaces. Beyond food, flowers, and community, NGT gardens cultivate the perfect environment to create and enjoy public art. 


One of Philadelphia's lesser-known treasures is Keith Haring's We the Youth mural in Point Breeze. It was painted in September 1987 as a collaboration between the renowned artist and fourteen high school students from New York and Philadelphia. We the Youth is the only collaborative public mural by Haring to remain in its original location. Mural Arts Philadelphia adopted the mural into its Restoration Program and conducted a full restoration in 2013. NGT preserves the Haring Mural Garden so people can continue enjoying Haring's legacy in Philadelphia.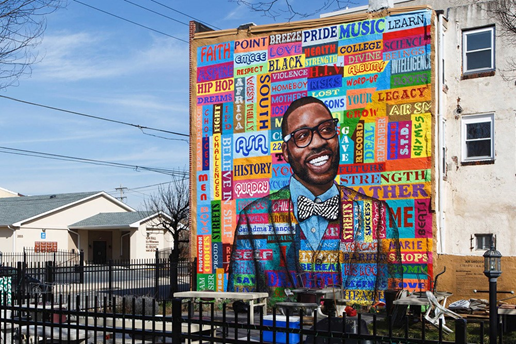 Another collaborative effort between Mural Arts and NGT sits just a block away from the Haring Mural Garden. Aspire: No Limits was completed in 2014 as a testament to community leader Shawn White. Dr. White was born and raised in Point Breeze and dedicated his career to creating educational health initiatives on sexually transmitted diseases for young Philadelphians. In his early life, Dr. White was an MC and music producer who worked with the likes of Ahmir "Questlove" Thompson and Tariq "Black Thought" Trotter, the founding members of The Roots. Black Thought worked with Mural Arts to create the mural after Dr. White's sudden passing in 2013.

The Concert Garden, directly in front of the mural, is the location of the annual gathering for friends and family members of Dr. White. NGT preserves the open space and flower garden so community members can continue to come together. In addition to its grandeur, the mural elevates the history of Point Breeze and one of its most influential community leaders.

There are a number of other NGT preserved gardens with murals, created by both Mural Arts and independent artists. Two examples are included below.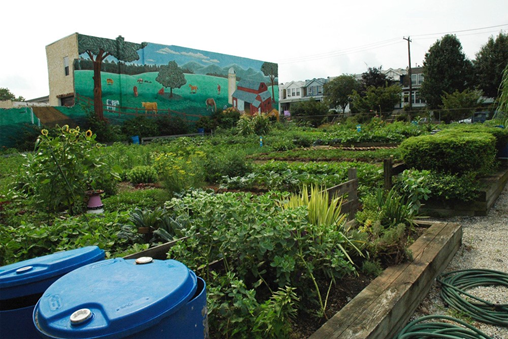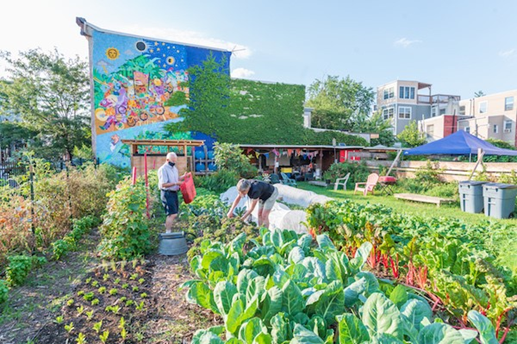 The mural and growing space of Aspen Farms at 4837-59 Aspen Street in West Philadelphia. The mural was painted in partnership with Mural Arts sometime during the early 1980s and NGT is in preliminary discussions currently about updating this mural.

The lively mural accentuates the colors of the plants growing at Emerald Street Community Farm at 2300-06 Emerald Street in Fishtown. The mural was painted by an independent artist, referred to by garden members as a "travelling saint," in 2017.

Besides murals, there are a couple NGT gardens with mosaics created by Philadelphia-based artist Isaiah Zagar. Zagar moved to South Philadelphia in 1968 and created his first mosaic at the Eyes Gallery on South Street, an art shop managed by his wife, Julia. In 1994, Zagar began working on Magic Gardens, his magnum opus located at 1020 South Street. Since 1968, Zagar has completed over 200 mosaics (and counting), the majority of which are located in South Philadelphia. Two NGT gardens in the Southwark and Queen Village neighborhoods are home to a number of Zagar's mosaics.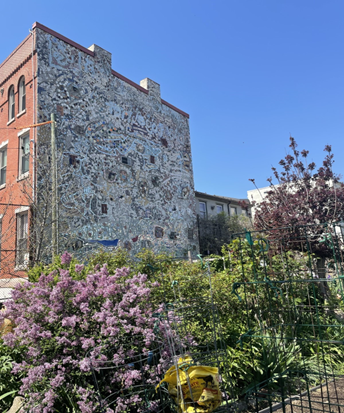 Zagar helped community members celebrate the twentieth year of the Southwark/Queen Village Garden with a commemorative mosaic. The first few sections were completed in October 1996. Community members raised $2,300 over the next year so Zagar could complete all five stories of the wall before the end of 1997.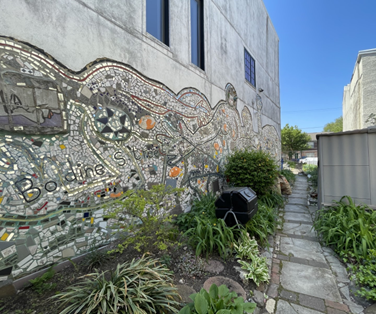 Three years later, in May 2000, Zagar created The Garden Goddesses along the entry path to Bodine Street Garden. The mosaic was created over two days with the help of neighbors and workshop participants. In 2007, Bodine Street received four more mosaics, completed in collaboration with Zagar and students from Moorestown Friends School. The mosaics are truly a hidden gem amongst the row homes of Queen Village.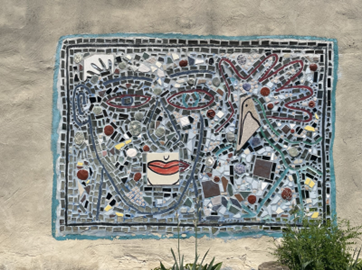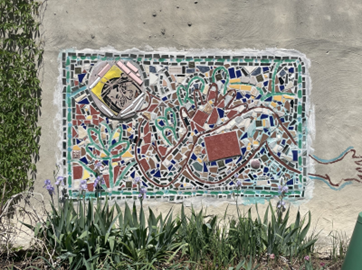 Each of the public artworks are important components of the gardens they inhabit. Whether they exist to tell the history of a community or to provide a serene backdrop to the growing space, the murals and mosaics greatly enhance the experience of the gardens. NGT is proud to protect these treasures across Philadelphia, so people can continue to appreciate the beauty that is created when art and nature collide.