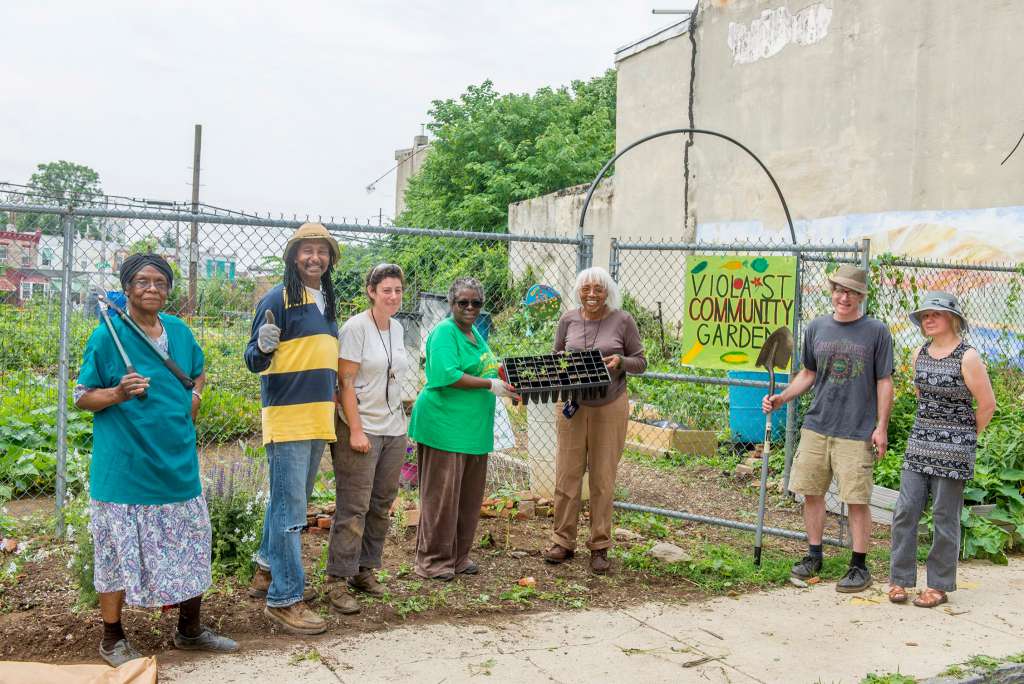 Viola Street Community Garden, founded almost 50 years ago, is one of Philadelphia's oldest community gardens. Its neighborhood of East Parkside has lacked resources and investment for many years, with 86% African American and over 50% living below the poverty line. The garden is a warm and inviting space, serving a tight knit community on Viola Street. Neighbors, especially the garden's senior founding members, rely on the garden to grow healthy food, which is not immediately accessible to their neighborhood.
Though the garden has served its community for so many years, without control of the land, gardeners have had to pool limited resources to maintain it and have faced uncertainty and fear about whether their dedication and love for the space would be in vain.
Working with Neighborhood Gardens Trust, the garden is now on the pathway to permanent preservation! Last week, NGT went to settlement, purchasing the first key land parcel at the garden with generous funding from the Department of Conservation and Natural Resources and private donations.
The property was one at imminent risk of being lost to real estate development. It had been abandoned by a private property owner who is deceased, and it was encumbered by tax liens, leaving it vulnerable to being lost at Sheriff's sale. NGT was able to purchase the garden property with a clear title and it is now preserved in perpetuity.
This win is huge in the eyes of the gardeners. With each piece of land secured, their anxiety about the future of the garden is abated.
The next phase of the garden's preservation will be to acquire two properties held by the city of Philadelphia. 3rd District Councilmember Jamie Gauthier is supporting the garden's preservation through NGT; however, we have been facing an obstacle to finalizing this acquisition. There is a recent city policy that requires that nonprofits which acquire community gardens assume a 30-year, self-amortizing mortgage for the market rate value of the land. NGT has been working closely with the Public Interest Law Center and a coalition of organizations and gardens to negotiate with the city to change this requirement.
While the advocacy and preservation campaign continue, NGT is working on a parallel track to begin to invest in garden infrastructure on Viola Street to improve accessibility for elders, increase food production, and ease use of the garden. In 2022, through an AARP Livable Communities Program grant, NGT worked with the gardeners and Pennsylvania Horticultural Society to make critical improvements including accessible raised beds, a delivery gate, and providing fresh soil, compost, and woodchips.
Viola Street gardeners have also been working to build new partnerships to maximize the garden's community benefits. They work with students from Belmont Charter High School and are partnering with Audubon and John Heinz National Wildlife Refuge to develop a pollinator garden as part of a larger pollinator pathway project across Philadelphia.
Ms. Naomi Smith, who is in her eighties, helped start the Viola Street Garden 50 years ago on a vacant lot full of debris. She still can't wait to get her hands in the soil every spring. "The strawberries and asparagus will be first up. They come back every year," Smith said. "Then we plant tomatoes, corn, greens, broccoli, cucumbers, squash. All of that good stuff." When asked what her hopes were for the future of this garden she replied, "To keep it. To keep it."
We look forward to keeping you updated as Viola Street continues its journey to permanent preservation!