A Garden Not Just For Those That Garden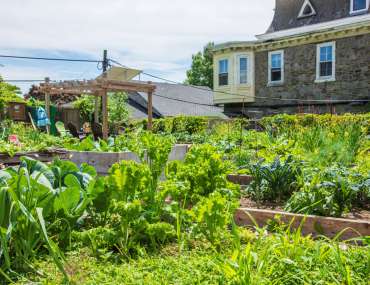 Looking out of the window of her East Germantown apartment at a vacant lot in 2015, Vita Litvak started to imagine what it would be like if there was a garden and orchard next to her apartment instead of an abandoned lot. Vita's vision for a community garden was inspired by her childhood. Vita grew up in Moldova where many families had plots of land to farm in the summertime and every apartment building had an outdoor green space where residents spent time together. Her East Central Germantown neighborhood was lacking community gathering and growing spaces, and she knew firsthand how beneficial they can be.
The 7,200-square-foot lot outside of Vita's apartment was owned by the Germantown Mennonite Historic Trust (GMHT), which agreed to let Vita clean up the lot. She started by building one garden bed to gauge the interest of others in the neighborhood. People passed by with curiosity as the lot was transformed. They stopped to ask questions about what she was growing and how they could get involved.
Vita discovered that she had neighbors who were also excited about coming together to build a community garden that would produce affordable organic food for their families and neighbors. Vita organized a petition and got signatures from neighbors to demonstrate to GMHT, the property owner, that there was a high level of community interest and commitment to building, supporting and maintaining a community garden on this land.
Vita submitted a proposal to GMHT to expand the garden, with the help of the recently formed Pastorius Community Gardens (PCG) steering committee. GMHT agreed to let the community use the land, as they viewed the garden as another way for them to connect with and be of service to the Germantown community.
The garden continued to grow and transform with newly formed community partnerships. Men Who Care of Germantown helped with volunteers, building beds, and maintaining the garden, and continues to support the PCG today. The gardeners then worked with  Philadelphia Orchard Project (POP) to plant berry and fruit trees, and with the Pennsylvania Horticultural Society (PHS) to build 20 new garden beds.
PCG provides not only garden plots, but also a public open space for the whole community– a place for all people to enjoy, not just gardeners! The garden was intentionally built with no fence to ensure the space would be as accessible and welcoming as possible. Gardeners at PCG pay minimal annual dues on  a sliding scale and everyone in the neighborhood has access to the community growing plots to pick what they need.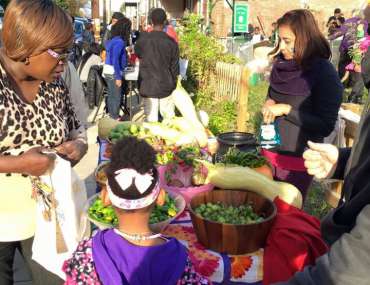 In the fall of 2015, when the garden was just getting up and running, PCG held its first Fall Harvest Festival in collaboration with Men Who Care Germantown. The event was used to inform the whole neighborhood about this shared space and to get more people involved. There was pumpkin painting, cider pressing, music and food. The next fall the event was even bigger with 150 people and a petting zoo.
Events at PCG have been instrumental in bringing the neighborhood together. For the last three years, the garden has hosted a free monthly summer music series completely run on solar power sponsored by Germantown CDC and Men Who Care, that showcases a diverse array of local and regional talent. You'll be able to catch one last PCG Live event this summer on September 19th from 6:00-8:00; mark your calendars.
Over the past four years this garden has ignited and built a sense of community. As the garden has become more deeply rooted in the community, the gardeners had concerns about whether they would be able to sustain it for the future. They had secured a lease for the land from the GMHT, but it required the gardeners to hold insurance, which was a significant barrier for them.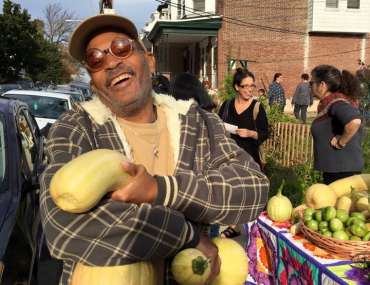 Vita and the other gardeners reached out to NGT for help.  NGT joined Vita and GMHT board members to come up with a solution.  These discussions led to a great outcome for all. This July, NGT entered into a long-term lease with GMHT.  NGT can now provide insurance for the garden and support physical improvements to the space in coordination with PHS. Maybe most important of all, the lease gives NGT the "right of first refusal," meaning that if GMHT were to decide to sell the property in the future, they will provide NGT with the opportunity to purchase it for permanent land protection before it is put on the real estate market.
"Thinking about losing the garden was heartbreaking," noted Vita. "With NGT as an advocate for the garden we can ensure a future for the garden and help us maintain it in perpetuity."
Welcome Pastorius Community Garden to NGT!
Want to learn more about Vita Litvak and her work at PCG? Check out WHYY's recent article, Get to know some of North Central Philly's 'unsung heroes'. You can also follow PCG on Facebook and Instagram as well as their website www.pastoriusgardens.org